Our Friends
We extend on the children's behalf a very special thank you to our many partners including the McCoskrie/Threshold Foundation, our many MacDill Air Force Volunteers in Florida, the Jeremiah Denton Fdn., Hearth to Hearth Ministries, the American-Nicaraguan Fdn., the Office of Genetic Counseling & Disabled Children at Hue College of Medicine and Pharmacy in Vietnam, Pinellas County Schools, FL, St. Petersburg College, FL, the Richmond, VA Chapter of the American Red Cross - Web of Hope, Hope Foster Home - Beijing, China and Food for the Poor, among many others. Our coordinated efforts have truly changed the lives of many desperately poor children and their communities.
It takes hundreds of donors, dedicated volunteers and partner organizations to make blessing the children internationally an efficient and effective reality.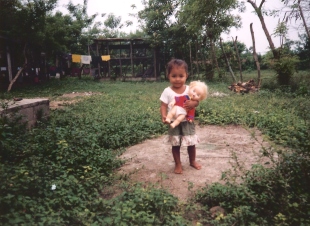 Please be a friend to a poor child.
Your donation of $1 each day, $30 per month will help provide a child with education. You can change the life and future of a child.
Our tremendous appreciation goes to Molly Smith, Maryetta Grabowski, Betsy Eudailey, Mary Munton, Joe and Leslie Moore, Sue Murphy, Kathy Jarrell, Clay and Brady Beveridge and Cheryl Clark of the Church of the Epiphany in Richmond, VA. Hundreds of parishioners there are also thanked for supporting Bless the Children's many programs in Honduras. The individual families who sponsor poor children to go to school are making an enormous difference in these children's lives. A special thank you goes to the Wings group and to all the individuals who provide funding to purchase food for our mountain school feeding programs. Your support has doubled attendance at many schools. A warm appreciation is extended to all the team members who travel and work to help communities in Honduras through medical mission trips. As well, we thank all those who support and make possible these trips.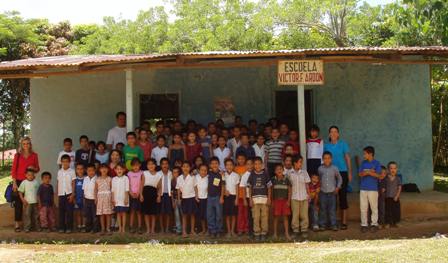 Our very dear friend Mr. John Grove of Ft. Walton Beach, Florida played a huge role in helping impoverished children and their communities by collecting, packing, shipping and donating 40-foot tractor trailer loads of humanitarian aid. His love for children in donating the funds necessary to purchase land and build the John Grove Academy in the mountains of Honduras, as well as his support of the teacher and students, has brought higher education where none was available before. John passed away suddenly this past December leaving hundreds of people who love him and many children who depend on him. We have established The John Grove Memorial Fund to keep his dreams alive and ensure his legacy continues.
A very special thank you goes to John and Brenda Scanelli of Norfolk, VA for their dedication to the children of the St. Christopher's Children's Home in St. Kitts and for the community there. Their continuous dedication in shipping 40-foot containers of aid to St. Kitts and other impoverished islands in the Caribbean is bringing new life to these areas.
Our gratitude to Fiona Strohecker and members of the Brandermill Rotary Club of Virginia for their donations and friendship to Bless the Children. Our relationship continues to bless children in many ways.
Thank you to Sterile Resources who through the years have donated many sterilizers to benefit the health of the poor. In impoverished areas these gifts are life-giving as doctors may sterilize their instruments. Truly these are gifts of life.
We also thank the organizations Hearth to Hearth Ministries and IWLE (I Want to Learn English). We are blessed to have the opportunity to work with you to improve the lives of children internationally.
A warm thank you goes to Michael Berryman, Mary Munton, Joe and Leslie Moore, Sue Murphy, Molly Smith and so many others from Virginia, Gary and Joan Brennan of New York and the Pandidan family of California. Your unwavering support throughout this long journey continuously brings much warmth and inspiration to our organization. Your help to the children continues to be of stellar proportion.
To Postcard Mania in Florida we extend our tremendous appreciation for all you do to help us help children and their communities through pro bono marketing materials and design services. Your standards are top notch, your designers are amazing and your personnel are a pleasure to work with. Thank you! www.postcardmania.com
To George and Betty Mealer, directors of Bless the Children Honduras, our deepest and profound appreciation is warranted and abundantly given for your dedication to the children and their communities in Honduras. Your tireless commitment throughout so many years has enabled us to together bring extraordinary relief to the children of your country.
We also extend a warm and heartfelt thank you to all who are involved with the Combined Federal Campaign, the Florida State Campaign and the Virginia State Campaign. Through the years the dedication of all who make these campaigns possible, especially our donors, translates into the continued expansion of our work to help the poorest children. You are bringing tremendous help to thousands of children.
On a very personal note we give thanks for every person who has supported Bless the Children in any way for throughout the last 20 years. In a multitude of ways thousands of special people have contributed in some capacity and you are all a valuable thread in the love and help we weave throughout the world to create a better life for vulnerable children. Each of you forms the fabric which is Bless the Children and your love continues to bring hope and peace to those we serve.