In Honor of Major John W. Grove, USAF (Ret.)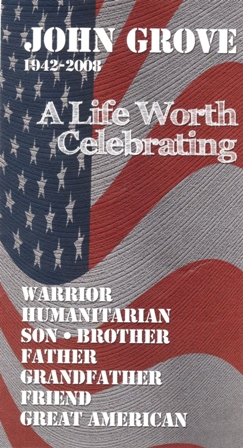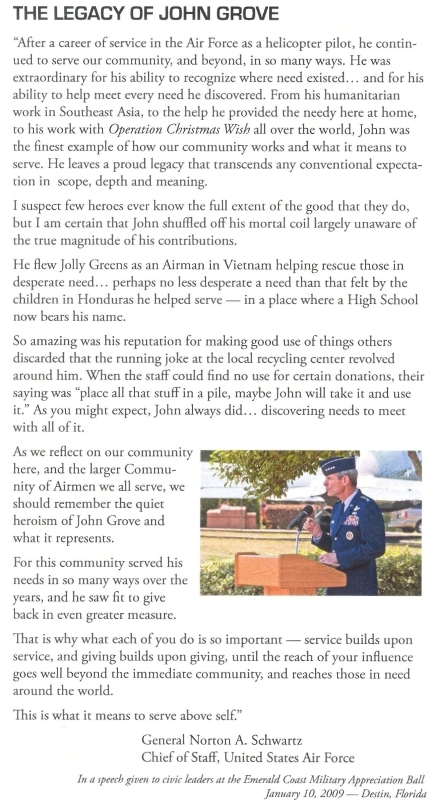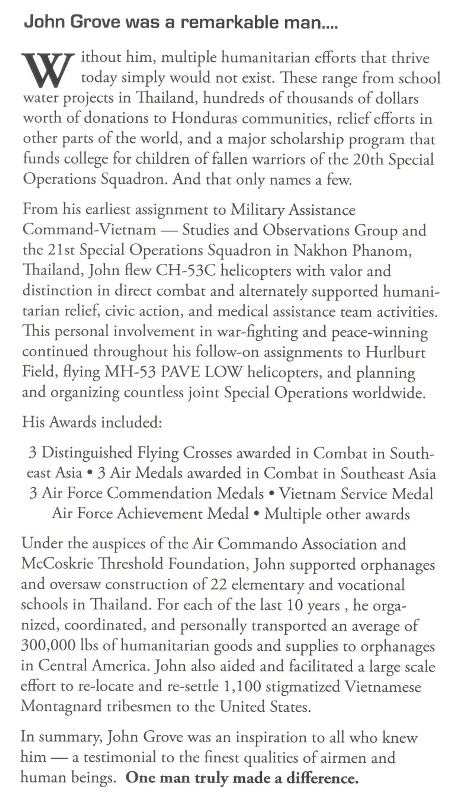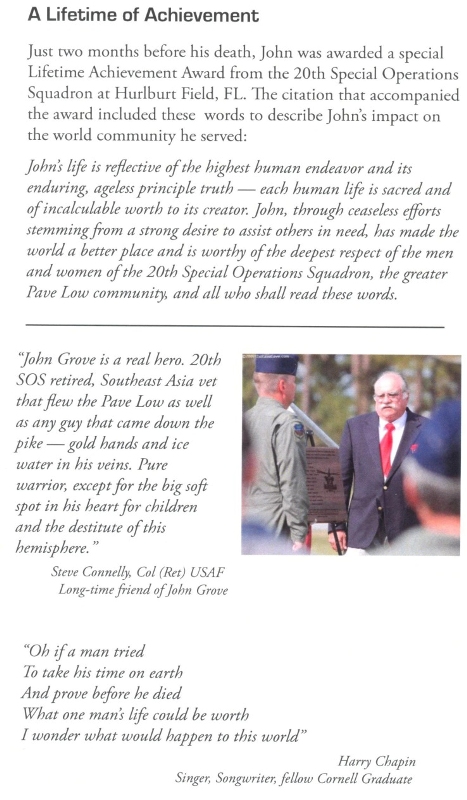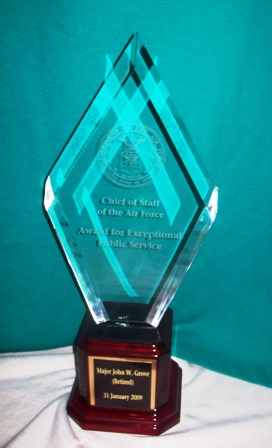 20th Special Operations Squadron
Lifetime Achievement Award
Presented to Major John Grove, USAF (Ret)
by Chief of Staff, USAF, General Norton A. Schwartz (Ret)
16 Oct 2008

This plaque is presented to Major John Grove in recognition of the outstanding humanitarian achievements and dedicated self-sacrifice that he has routinely displayed, from Vietnam to the present, and the resulting tremendous positive influence he has had on countless lives.
During his time in Southeast Asia with the Military Assistance Command Vietnam – Studies and Observations Group, John sought out and capitalized on community civic affairs opportunities which greatly improved the lives of local citizens and served to further the American cause during the Vietnam War. During this period, while serving as a pilot with the 21st Special Operations Squadron based at Nakhon-Phenom, Thailand, he participated in numerous humanitarian support operations in Northern Thailand, utilizing CH-53 helicopters to transport humanitarian supplies and military medical team assistance to support remotely located, impoverished villages.
Additionally, he provided support to numerous orphanages in Thailand during the conflict and has since facilitated the construction of over 22 elementary and vocational training schools. Following his time as an active duty Air Force Special Operations Pave Low Helicopter Pilot and since 1998, John has served as the Vice President and principle action officer of the McCoskie Threshold Foundation, an organization of military retirees dedicated to world-wide humanitarian support. As such, he organized, coordinated, and personally transported an average of 300,000 pounds of humanitarian goods and supplies each year for the last 10 years, with numerous shipments going to orphanages in Central America.
Recently, he aided in a large scale effort to immigrate nearly 1100 Vietnamese Montagnard tribesmen and their families to the United States as they were culturally stigmatized in their own Communist dominated country. He assisted in settling and clothing these displaced patriots. These same people fought and died alongside United States Special Operations Forces during the Vietnam War and are now able to start new lives in the United States, largely due to the Herculean efforts of John Grove.
John also started a scholarship program for the children of fallen members of the 20th Special Operations Squadron in 1984. This program supplements the Special Operations Warrior Foundation and supports educational expenses for the children whose fathers had been lost in combat or in training. Additionally, he serves as the 20th Special Operations Squadron Historian. In this role, he ensures historical records are maintained, the whereabouts of former squadron members and their families are tracked, and 20th SOS squadron traditions are kept and upheld.
John's life is reflective of the highest human endeavor and it's enduring, ageless principle truth - each human life is sacred and of incalculable worth. John, through ceaseless efforts stemming from a strong desire to assist others in need, has made the world a better place and is worthy of the deepest respect of the men and women of the 20th Special Operations Squadron, the greater Pave Low community, and all who shall read these words.

Please join the team and make a donation.
Just a buck a day from enough folks is all it takes to keep the dream alive!
On behalf of the students of the John Grove High School, "Thank you!"